DUCTLESS HEATING AND AIR CONDITIONING SOLUTIONS
Ductless systems can be used as the primary or secondary heating and cooling solution for a variety of applications for your residential home or commercial business.  Ductless mini split heat pump heating and cooling systems feature streamline mounted indoor units paired with quiet and compact outdoor units. There are many ways to configure this efficient and effective yet modern and versatile system.  Ductless systems are designed to heat or cool spaces that may lack or cannot accommodate ductwork.  DALTON Heating and Cooling offers a full line of maintenance, repair, replacement and installation sevices for ductless systems all around the greater Rochester area.
Control Zones Independently
These systems use a zoning function, meaning they can heat or cool specific rooms or multiple areas independently of one another, giving you more range and control to maximize your comfort.  If some areas in your home never seem to be the right temperature, a ductless system is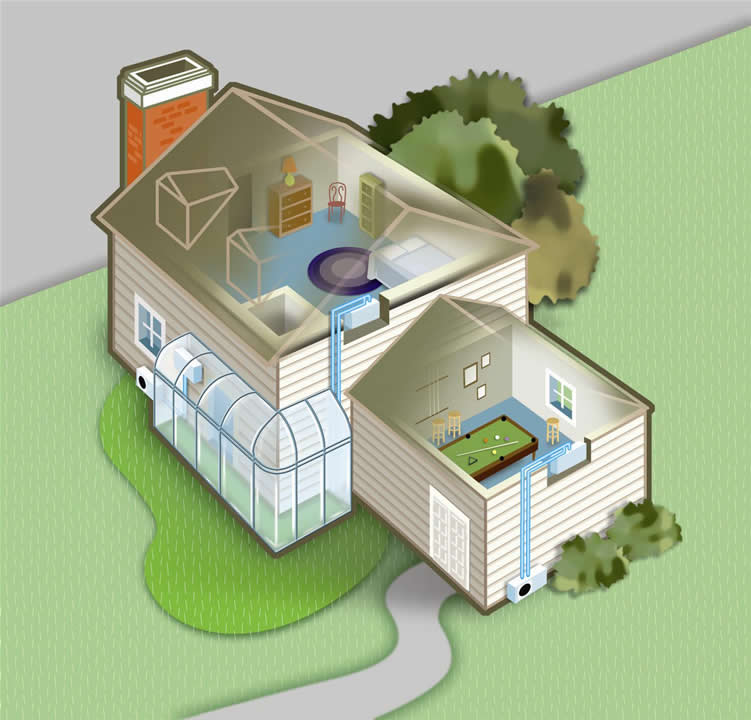 often an excellent solution. Whether it is the hot sun shining through living room windows or a central HVAC system that simply can't keep up with the demands of your heating and cooling needs, a ductless system is often the ideal solution.
Ductless Mini Split Heat Pump Applications
Ductless mini split heat pumps are increasingly being used in these situations:
Homes with costly electric heat (e.g., baseboard; furnace; wall heaters; electric radiant)
Older homes with no ductwork (e.g., radiators or baseboard heat)
Homes with expensive central heating systems due to high fuel costs or low system efficiency.
Additions or outbuildings (e.g., shed, barn, garage) where extending ductwork or cooling/heating capacity is not feasible.
Rooms that are not regularly occupied (indoor unit can be turned off to save money).
Spaces adjacent to unconditioned spaces where ductwork would be exposed to harsher temperatures (e.g., a guest room above a garage).
New construction of homes in areas with high fuel costs.
Older buildings with no existing ductwork or for expansions.
Ductless systems make use of a double-filtration system, helping to reduce pollutants like dirt, dust, pollen, and mold spore from your home's air.
Single-zone applications are ideal for those heating and cooling specific rooms or zones that are more difficult to keep warm or cool than the rest of the house including additions, converted living spaces, garages, vaulted ceilings, sunrooms, office space, bedrooms, basements, attics and tiny homes.
Multi-zone is capable of keeping your entire home or office comfortable. This multi-zone configuration also allows you to control each zone from a central location, thus allowing you to only heat and cool the zones you want to use.
We Service A Wide Variety of Areas/Locations, Brands, Makes And Models
Rochester NY | Monroe County NY | Wayne County NY | Ontario County NY
---
Avon | Bloomfield | Brighton | Canandaigua | Clifton Springs | East Rochester | Fairport | Farmington | Henrietta | Honeoye | Honeoye Falls | Irondequoit | Lima | Macedon | Mendon | Palmyra | Penfield | Phelps | Pittsford | Victor | Webster and MORE!
Because of the unique zoning capability of a ductless system, you have a higher degree of control over each and every space in your home. This not only provides superior comfort, but can also drastically reduce monthly energy costs. Single-Zone ductless can be utilized to heat and cool specific space for applications such as sunrooms, attics, basements, additions and more. Sunrooms have an abundance of natural light and need to be cooled and heated differently from the rest of the house. Additions or outbuildings are often a little short on additional room and lack the space required for big, bulky ductwork. Some rooms are not regularly occupied and you can turn off the mini-split system and close the door to save money.
Condominiums, townhouses, small houses or offices do not always have the space needed for traditional heating and cooling system ductwork. Sometimes it is easier, less mess and more cost effective to install a dustless system.
The outdoor condensing unit is small and can be placed almost anywhere due to its small size that consumes very little outdoor space.
Areas with little living space won't have to lose aesthetic value of your home or precious space.
No bulky, leaky ductwork means these systems are super efficient to save you money.
Ductless is a modern, non-invasive, energy-saving choice. Ductless adds heating and cooling to drafty old buildings without infringing on aesthetics.
Many older homes have no ductwork at all. To retrofit ductwork in an existing home takes away from the space and is costly. Ceilings would be lowered or space would have to be carved out of the rooms. The footprint of a ductless system is very small.Part of the appeal of an older home is the architectural charm of the structure. A ductless solution will modernize the home while keeping the architectural integrity intact.  A ductless system allows for heating and air conditioning while to help maintain historical character.