HEAT PUMP HEATING AND AIR CONDITIONING SOLUTIONS
Heat pump heating and air conditioning systems make for an excellent cost saving and versatile comfort solution for parts of Rochester.  By providing reliable heat in the winter months and strong cooling in the summer, heat pumps bring you year-round comfort. DALTON Heating and Cooling offers a full line of  heat pump maintenance, repair, replacement and installation services for your residential home or commercial business.  We specialize in heat pumps and we have been installing them for decades in Rochester and the surrounding area.
How a Heat Pump Functions
A heat pump is different from other heating systems in that it provides both heating and cooling. That's why it is so important to have a professional help you in selecting a system that will accommodate those needs equally. A heat pump "pumps" heat from one location to another. Most heat pumps are equipped with reversing valves that enable them to provide both heating and cooling.  Supplemental energy may be required to make the heat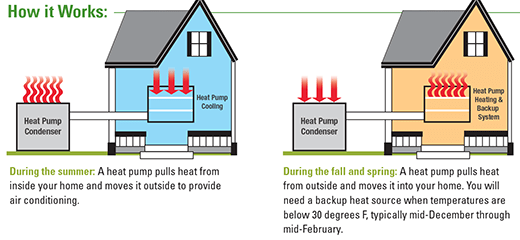 pump produce enough warmth to comfortably heat your home when the temperature falls below freezing.
Heat pumps are  two-way air conditioners.  During the summer, an air conditioner air-source heat pump is installed much like a central air conditioner  works by moving heat from the relatively cool indoors to the relatively warm outside. In winter, the heat pump reverses this trick, scavenging heat from the cold outdoors with the help of an electrical system, and discharging that heat inside the house. Almost all heat pumps use forced warm-air delivery systems to move heated air throughout the house.
Heat Pump Efficiency
Heating efficiency is measured in HSPF with a standard, entry level model offering a rating of around 8.0. Top rated heat pumps can carry HSPF ratings of up to 10.0, so it is important that you choose one that fits your budget for both installation and ongoing operation. These same systems will also hav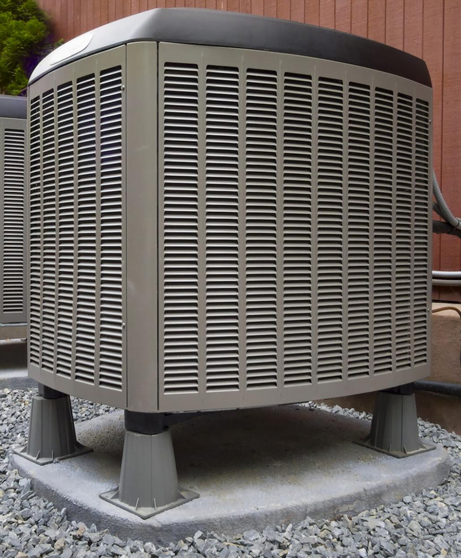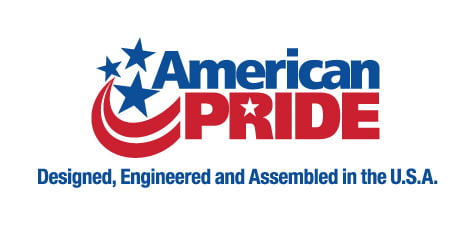 e a SEER rating for cooling efficiency with entry level models having a rating around 14.5 and upper end models carrying numbers closer to 20.0.  "SEER" stands for Seasonal Energy Efficiency Ratio, a measure used by the U.S. Department of Energy to rate the cooling efficiency of air conditioners and heat pumps.
How You Know That It's Time to Replace Your Heat Pump
If you have an existing heat pump that is more than 10 years old, a replacement offers many benefits. To start, energy efficiency ratings have increased dramatically in the last 10 years. You can likely reduce your energy bills by as much as 30% by making an upgrade. Additionally, newer models are more effective at producing heat in the winter, regardless of how cold it gets.

We Service A Wide Variety of Areas/Locations, Brands, Makes And Models
Rochester NY | Monroe County NY | Wayne County NY | Ontario County NY
---
Avon | Bloomfield | Brighton | Canandaigua | Clifton Springs | East Rochester | Fairport | Farmington | Henrietta | Honeoye | Honeoye Falls | Irondequoit | Lima | Macedon | Mendon | Palmyra | Penfield | Phelps | Pittsford | Victor | Webster and MORE!
Amana® 18-SEER HEAT PUMP. Performing at the top of its class, this communicating heat pump features efficiency up to 18 SEER, uses R410A refrigerant and a two-stage scroll compressor with a heavy-gauge, factory-installed bi-flow liquid line filter drier galvanized steel enclosure with sound-control top.
MFG WARRANTY: Amana® Limited 10-year parts/compressor, Lifetime Limited Unit Replacement. *OPTIONAL Amana® 10-yr extended LABOR Warranty
Energy-Efficient Solution
Amana® 16-SEER HEAT PUMP. This energy-efficient heat pump has a cooling rating up to 16 SEER, uses R410A refrigerant, quiet condenser fan motor, and a high efficiency scroll compressor, factory-installed inline filter drier, heavy-gauge galvanized steel enclosure with sound-control top.
MFG WARRANTY: Amana® Limited 10-year parts/compressor, Lifetime Limited Unit Replacement. *OPTIONAL Amana® 10-yr extended LABOR Warranty
Efficient-Saving Solution
Amana® 14-SEER HEAT PUMP. This heat pump 3-ton Split System Efficiency is up to 14 SEER, Heating and Cooling capacity 36,000 Btuh. Uses R410A refrigerant and a Single Stage scroll compressor with a Compressor sound blanket.
MFG WARRANTY: Amana® Limited 10-year parts/compressor. *OPTIONAL Amana® 10-yr extended LABOR Warranty